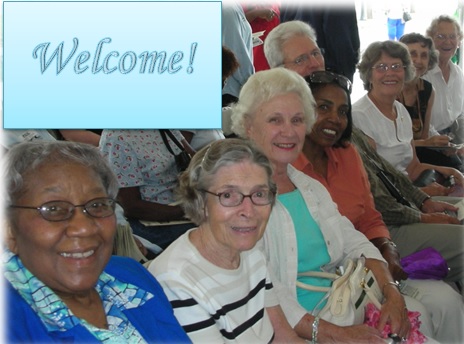 Welcome to the Lake Wales (FL) Branch of AAUW!
AAUW Lake Wales FL Branch, Inc. is a branch of AAUW (American Association of University Women). AAUW has been empowering women since 1881. Information on AAUW's programs, grants and fellowships is accessible at: http://www.aauw.org .
Membership requires a two-year or higher degree from an accredited college or university.
AAUW Lake Wales Branch is a non-partisan 501(c)(3) nonprofit corporation whose mission is to promote equity for women and girls through advocacy, education, philanthropy and research.
We invite you to learn more about us on these pages.
We are the only branch of AAUW in Central Florida's Polk County. Founded in 1953, we take pride in our long legacy of activism. Our members are drawn from throughout the county, including such cities as Lakeland, Haines City, Indian Lake Estates, Babson Park, Winter Haven, Mulberry and Lake Wales. We are diverse in many characteristics but united in our desire to promote education and equity for women and girls. If you are looking for opportunities to learn, to do something that matters, to develop as a leader or to expand your horizons, you belong in AAUW!
Thanks for visiting our site! To discover what our branch of AAUW has to offer, click on the topics of interest to you.
---
AAUW Applauds Paycheck Fairness Act Introduction in Congress
AAUW Applauds Paycheck Fairness Act Introduction in Congress
The Paycheck Fairness Act is sponsored by Rep. Rosa DeLauro (D-CT) and Sen. Patty Murray (D-WA). The bill is bipartisan in the House of Representatives and co-sponsored by every Democrat in both the House and Senate. (A version of the bill was first introduced in 1997.) The Paycheck Fairness Act is also an important complement to the Lilly Ledbetter Fair Pay Act of 2009, which ensures that ongoing pay discrimination at work can be challenged regardless of when the discrimination began. That act was signed into law 10 years ago on January 29, 2009.
Read More.
---
Victory For Equal Pay
Closing the gender wage gap will take work on many fronts, but one key tool is having more information about salaries. Removing the shroud of secrecy about who earns what is a critical step towards ensuring equal pay for equal work.
Read More.
---
Simple Truth
The gender pay gap is the gap between what men and women are paid. Most commonly, it refers to the median annual pay of all women who work full time and year-round, compared to the pay of a similar cohort of men. Other estimates of the gender pay gap are based on weekly or hourly earnings, or are specific to a particular group of women.
Read More.
---
 U.S. Cities Reveal a Wide Range of Gender and Racial Pay Gaps
The gender pay gap is a real and consistent problem, which is all too apparent when we examine the data on the earnings of men and women. No matter how you break down the numbers—by state, by age, by education, or by occupation—the gap is substantial. And cities are not immune to this problem, as our new analysis shows.
AAUW has analyzed the pay gap faced by women of different races and ethnicities in 25 of the largest U.S. metropolitan areas. The analysis revealed that there is a substantial gender pay gap in all 25 cities, with even larger gaps for black and Hispanic women.
Read More.